Tallangatta Medical Centre – Out Reach Clinic Mitta Mitta & Dartmouth November 2020
Skin Checks and wellbeing were the focus of our Outreach Chronic Disease clinic this visit.
GP, Dr Benjamin Nelson and Practice Nurse, Louise Bowran spent the morning in Mitta Mitta on the 16th November and a total of 12 clients visited.
Feed back from the local community was that the service was very welcomed and appreciated. In future clients would like more visits to occur with increased advertising of the planned dates.
Locum GP, Dr Quinton Miles, Credentialed Diabetes Educator,  Denise Johnston and Practice Nurse, Louise Bowran visited Dartmouth on the 17th November for the second clinic.
Dr Miles was very amused at the prospect of seeing Dinosaurs in this high-risk area as indicated by the road signage.
Another 12 Dartmouth community members took advantage of our clinic made possible from MPHN funding to allow us to go out to our communities.
The Van was kindly provided by the POCHE Centre for Indigenous health in Albury and made visiting these communities so much easier as all our equipment is within the van.
Community members benefited by having their skin checks performed and general health and wellbeing discussed.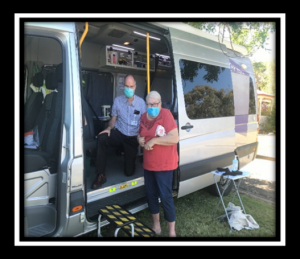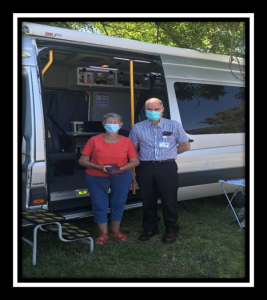 Our next Clinic will be held at Eskdale Hall on the 3rd December 2020.
Nurse Practitioner Sue Reid and Kerrie Attree will be at the community hall from 9.30 am to 1 pm
Bookings preferred – Please call Tallangatta Health Service on 02 60 715 270 to make an appointment.
Please come along for a Health Check-up.